INTRODUCTION: Well I was looking for a good spring pistol, and I was on eBay and saw this so I got it. It cost $40 with shipping from eHobbyAsia.
When I got home the day it was going to be delivered, I run up the hill(from my bus stop) and looked at the front porch, it wasn't there. I went inside and went to ups.com and looked up my order, it said that it was delivered. Later I found out that my mom had taken it and hid it because I hadn't cleaned my room(GOSH!!!!)
FIRST IMPRESSIONS: When I opened up the box, it seemed like the gun was made of gold. When I picked the gun up it weighed a good pound(which is suprising because most of the gun is plastic). Well I noticed that it had a working hammer (just pull the trigger and the hammer goes back and forward(just like the real thing). In the box there is a black tip(so you
CAN
take off the yellow tip)but I haven't done it yet(I am too afraid that I will break the barrel).
SIGHTS: Well they're just like any other M9, two points in the back, one in the front.
THE MAGAZINE: Well there isn't much to say about the mag, except that it should hold 26 rounds(mine holds 20) and that the mag even has trade marks on it too!!
PERFORMANCE: When I first cocked the gun it was very hard ecause of the open ejection port(the port streches from where the actual bullet flys out to the front of the sights),the gun slide is hard to pull back with the all the power that gun is packin. And when I shot it I fired at a target that came with the gun from 50ft away(I got about a 3 inch grouping).
CONCLUSION: The Tokyo Marui line of spring pistols are
AMAZING
!!
Well anyway their M92F model is freakin awesome, so go and get one if you can find one. Look on armsairsoft.com for the gun, mag, bbs, and anything else. OH and by the way if you're going to get a M92F get a bag of 3000 KSC .25g perfect bbs(they work really good in the M92F) or Tokyo Marui or Excel bbs.
PROS:
TM Trademarks
Good weight
Locking Slide(also a con(not a good slide lock)
Open ejection port
Working hammer
Super Acurate
CONS:
Not many sites have ANYTHING for them
Hard to pull back(even with some practice(Although it does get easier, but not much)
All plastic
And I leave you with pictures!!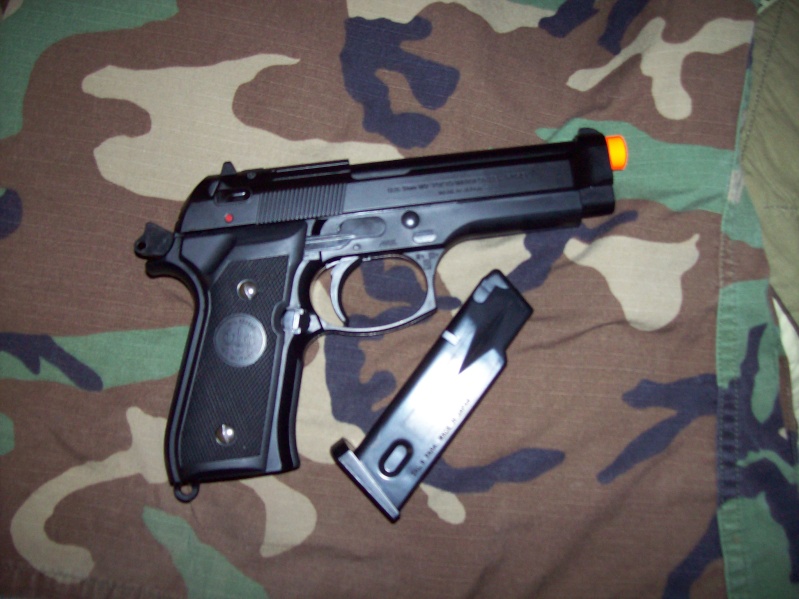 TM M9 Slide-Locked